Recover@home
| | |
| --- | --- |
| | 2016-2018. A monitoring solution to be used at home by people who undergo lower body orthopaedic surgery. |
Recover@home is a monitoring solution to be used at home by people who undergo lower body orthopaedic surgery. It is the very first solution that uses wristband sensors to keep an eye on patients after their operation and accompanies them throughout their recovery process. By correlating objective data and subjective patients' feedback, Recover@home improves the quality of care, shortens hospital stay, increases satisfaction and reduces medical costs.
Project Results
The main result of the project is an app running on a smartwatch that monitors the level of limping and the recovery process of the patient. After continuous test and feedback with the physiotherapists of Clinique La Colline, we have created a non-invasive, flawless and very easy to use app that all the patients are happy to use at the clinic or at home in order to evaluate their recovery stage. The patient simply wears the watch and he can perform the recordings of his situation after the surgery.
We have created a Machine Learning algorithm trained with data coming from patients of Clinique La Colline and this algorithm has been tested in scenarios during the two rounds of trials that have been performed in the middle and in the end of the project at Clinique La Colline. Our algorithm detects accurately if the patient is limping, if he uses crutches and the different levels of pain that he can tolerate. Finally we are able to detect if he is walking normally or how close he is to his normal walking pattern. This is the evaluation of his recovery level. After a recording our algorithm gives a result (for example the patient was walking with crutches, or the patient was limping heavily) and the ground truth of the physiotherapist makes the confirmation of the outcome of our algorithm.
To the best of our knowledge, Recover@home is the first app that is able to evaluate the limping pattern of a patient and his recovery stage. It is integrated with the main app of Kheops Technologies called AppFine and it will be sold to the current clients of the company in Switzerland, France and Belgium.
All data recorded with AppFine is also visible in MediBoard, the open source Healthcare Information System proposed by Kheops to their clients.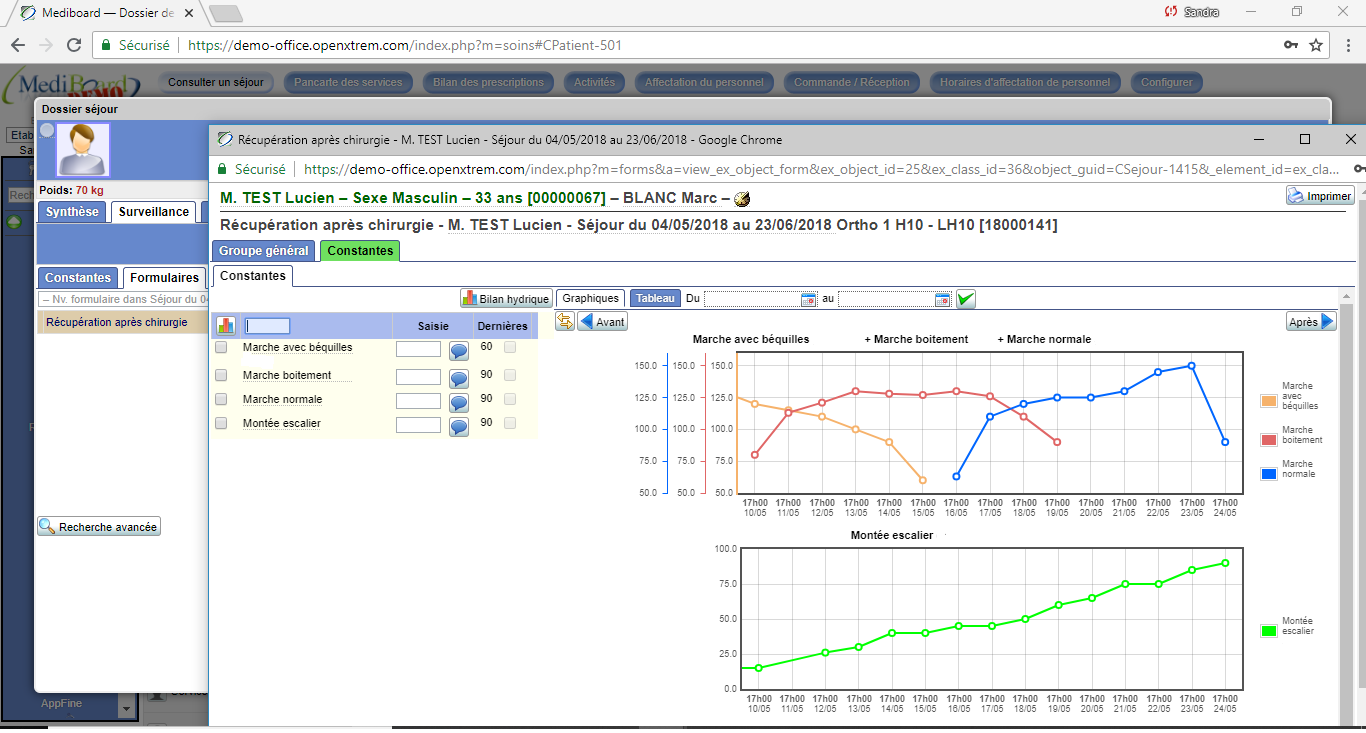 Publications